AdmitJet Water Jet Surf Board Electric Surfboard For Sale
AdmitJet Water Jet Surf Board Electric Surfboard For Sale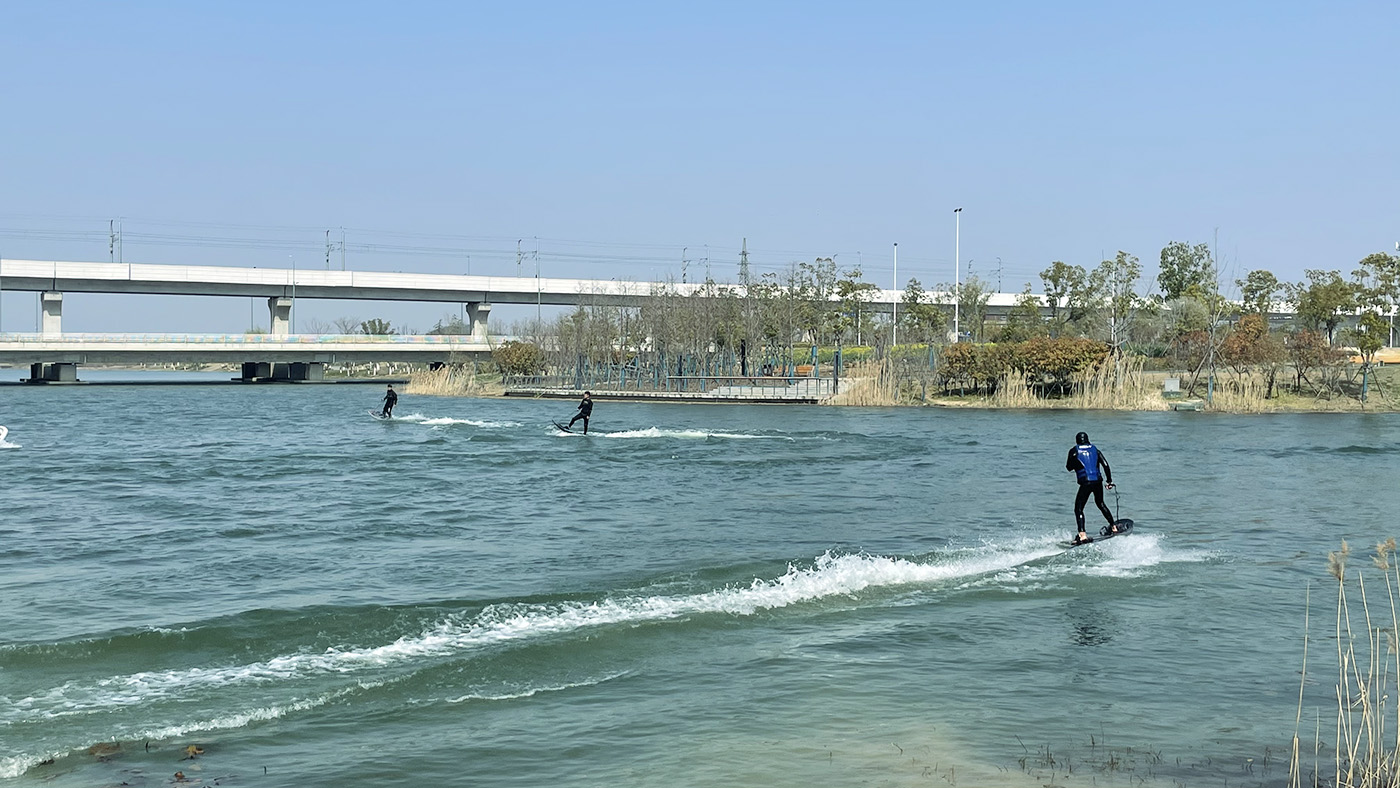 AdmitJet Electric Surfboard 12000W 72V 58Ah: The Ultimate Motorized Surfing Experience
Riding an electric surfboard is easier to compared to traditional surfboards as they are motorized and require less physical effort. Electric surfboards are versatile and can be used in many water conditions. These include calm lakes and choppy ocean waves. Electric surfboards can be used for surfing, racing, or simply cruising.
Advantages of Electric Surfboards: A Fun and Eco-Friendly Way to Surf Any Water
An electric surfboard is a special type of surfboard that uses an electric motor to move across the water. Unlike regular surfboards, it doesn't need waves or wind to work, so you can surf in any body of water.
Compared to gas powered surfboards, electric surfboards are better for the environment because they don't make any pollution or noise. They are also easier to use and need less maintenance.
Compared to regular surfboards, electric surfboards are faster and let you do cooler tricks like turns and jumps. They are also safer because you don't have to worry about big waves or currents. Electric surfboards are perfect for beginners because they are easier to learn and don't need as much strength or energy.
In conclusion, an electric surfboard is a great choice for anyone who wants to have fun and be eco-friendly. They offer many benefits over traditional and gas-powered surfboards, including convenience, safety, and ease of use.
Ride the Waves in Style with AdmitJet's Powerful Electric Surfboard
AdmitJet's Electric Surfboard is the ultimate solution for those seeking a thrilling and eco-friendly motorized surfing experience. This electric surf board has a powerful 12 KW electric motor, and spread-out motor cooling system.
Riders can reach speeds of up to 55 km/h, similar with a jet ski. And it ensures up to 55 minutes of riding time at maximum speed.
With durable carbon fiber shell, this electric surfboard is designed to accommodate up to 140 kg of weight. And the motorized surfboard has a battery life of 1000 charges and discharges. The battery is a socket-type replacement rechargeable battery that can be quickly released in just 10 seconds. For added convenience, riders can purchase an extra battery for longer riding time.
The AdmitJet Electric Surfboard is easy to use and has a fast charging time of only 3-3.5 hours. It is IP67 waterproof certified and comes with a 1-year warranty, with parts and service available for life.
For anyone who looking for a fun and exciting water sports adventure, this electric powered surfboard is perfect. The AdmitJet Electric Surfboard is ideal for anyone, no matter their skill level. It is a revolutionary product in the motorized surfing industry.
Don't miss out on the opportunity to own one of the fastest electric surfboards on the market today. Purchase your AdmitJet Electric Surfboard online and experience the thrill of riding the waves like never before.
How Much Are Electric Surfboards ?
The price of electric jet surfboards can vary depending on factors such as the brand, model, features, and quality. Generally, electric surfboards can range from around $1,000 to $15,000 or more. It's important to do your research and compare different options before making a purchase.
Where To Buy A Jet Board ?
AdmitJet offers a range of electric powered surfboards, including electric hydrofoil boards and jetboards. With carbon fiber construction, riders can reach speeds of up to 40 minutes on a single charge. AdmitJet's electric jetboards come in a variety of models, including the Jet Surf, Electric Surfboard, Jetboard, and more.
Customers can buy jetboards online and find them for sale in countries like the US, Australia, Canada, Spain, and the UK. You can buy an AdmitJet surfboard here on official website or through authorized dealers. Additionally, you can also directly order from our Alibaba platform. We can get the jetsurf board delivered to your location, door to door.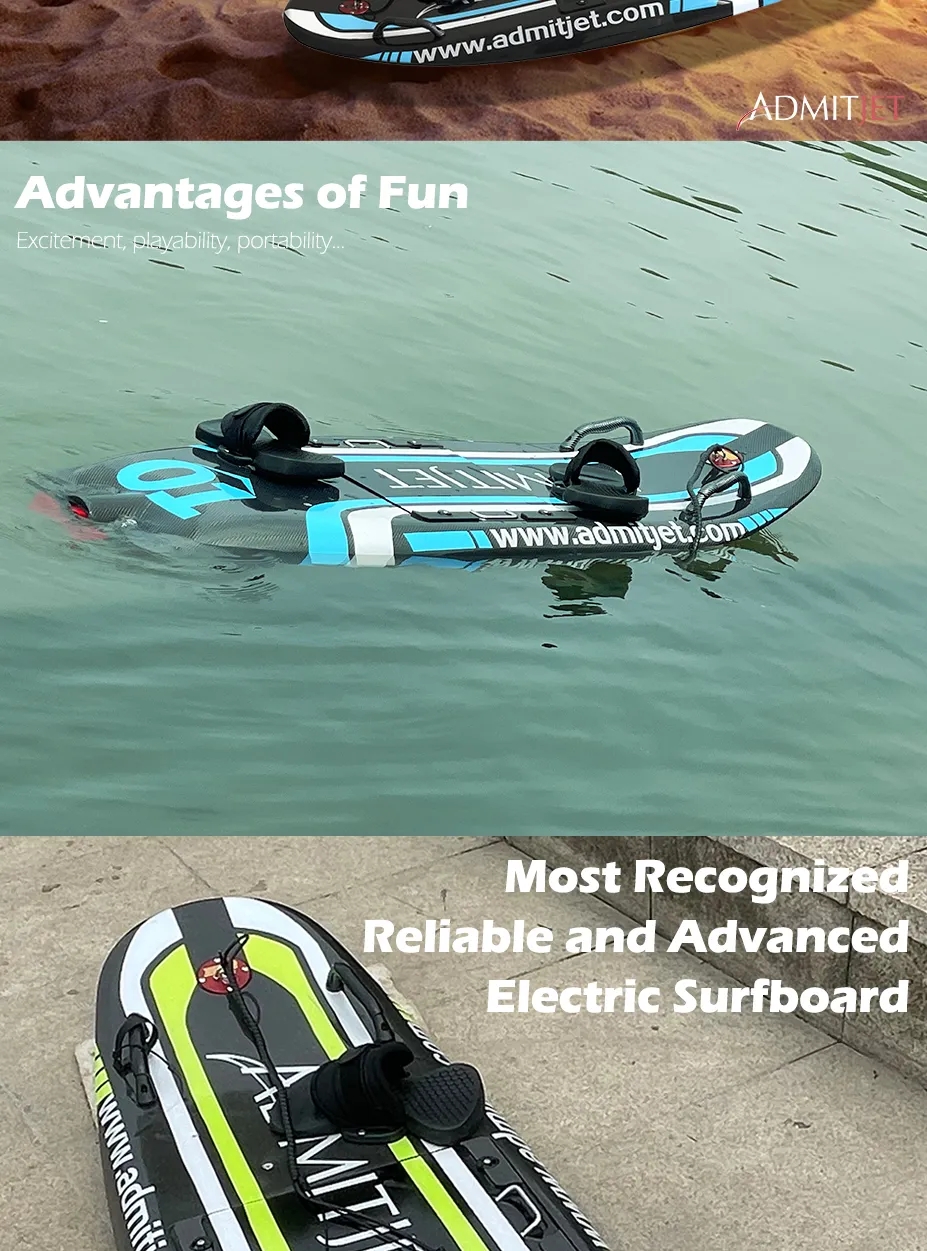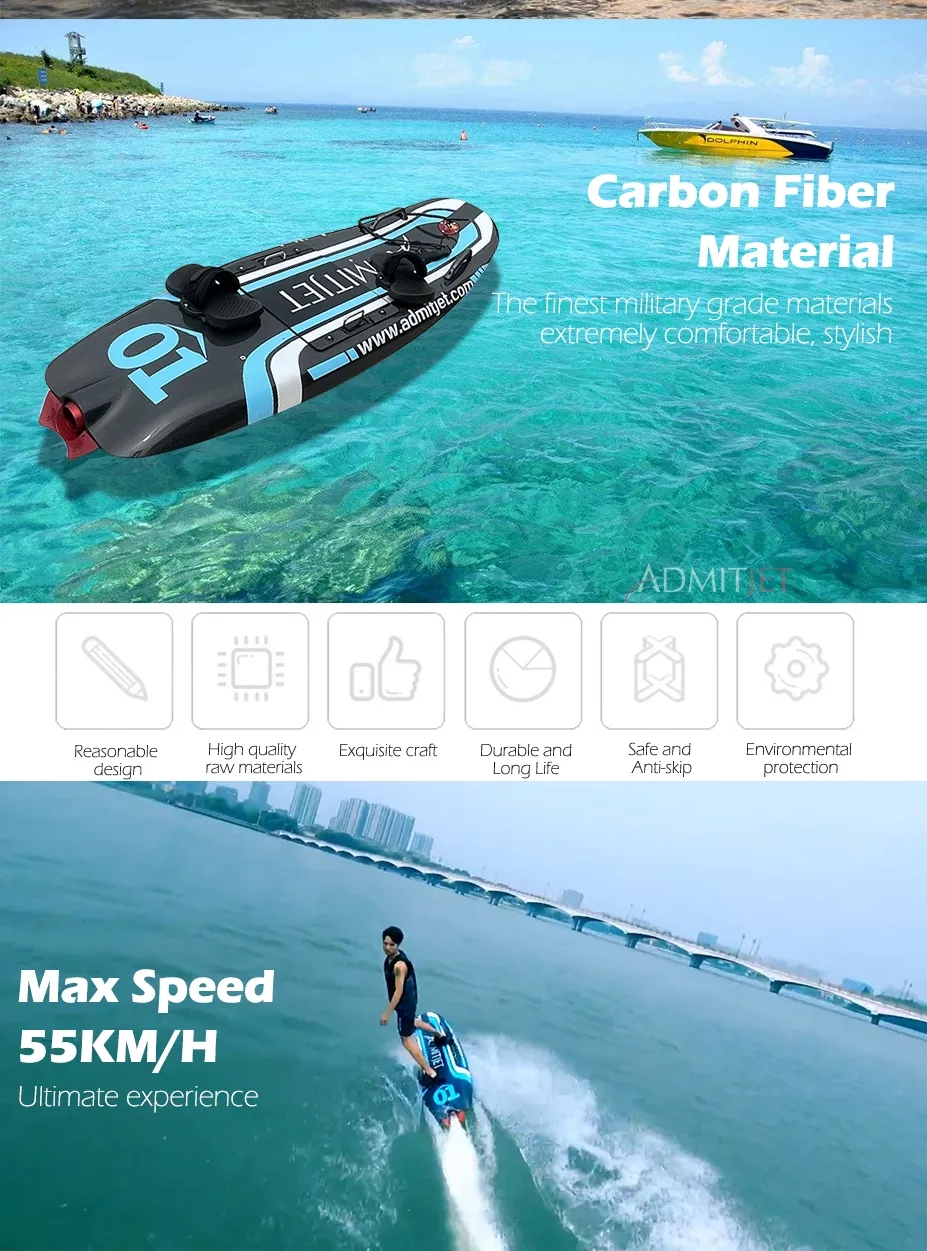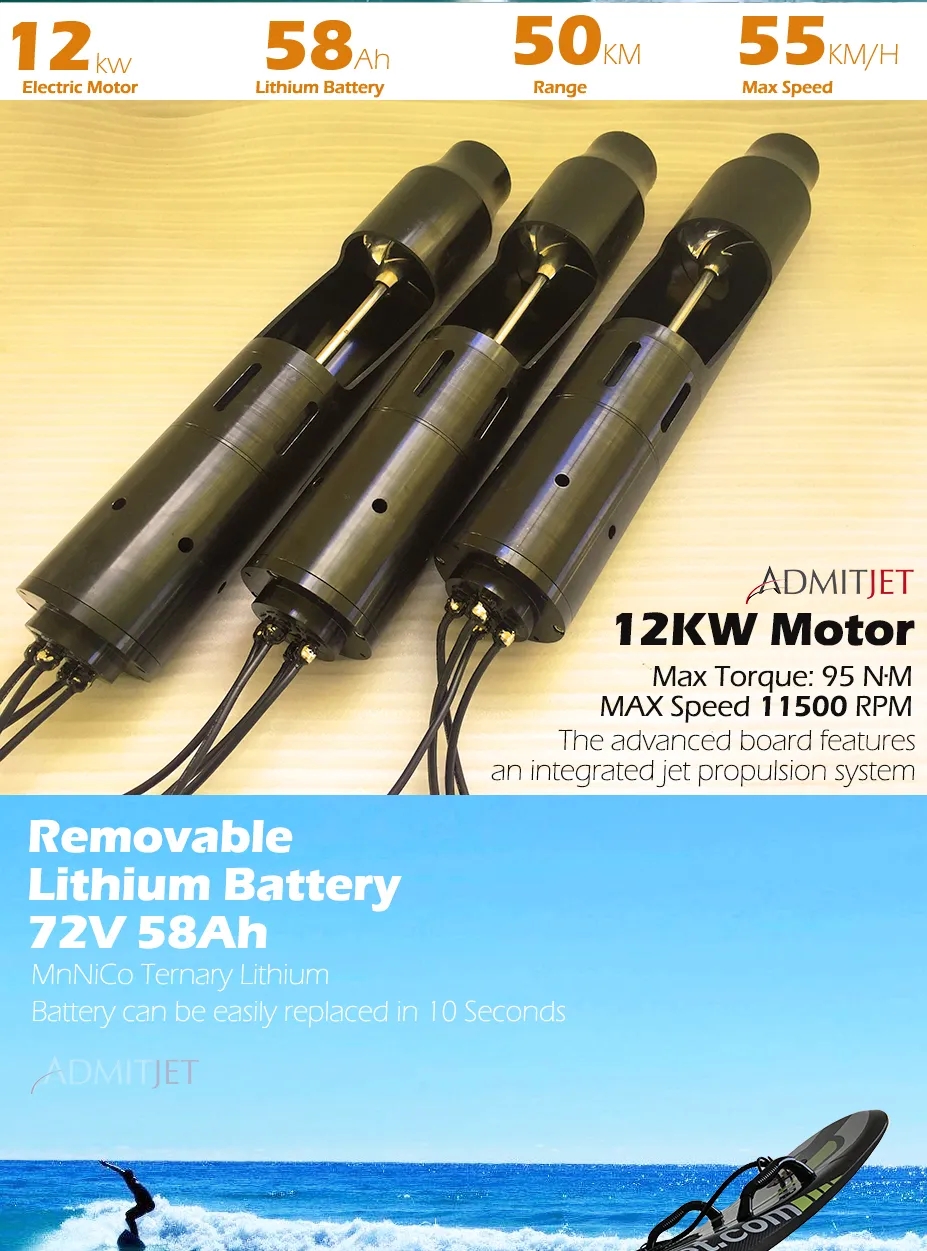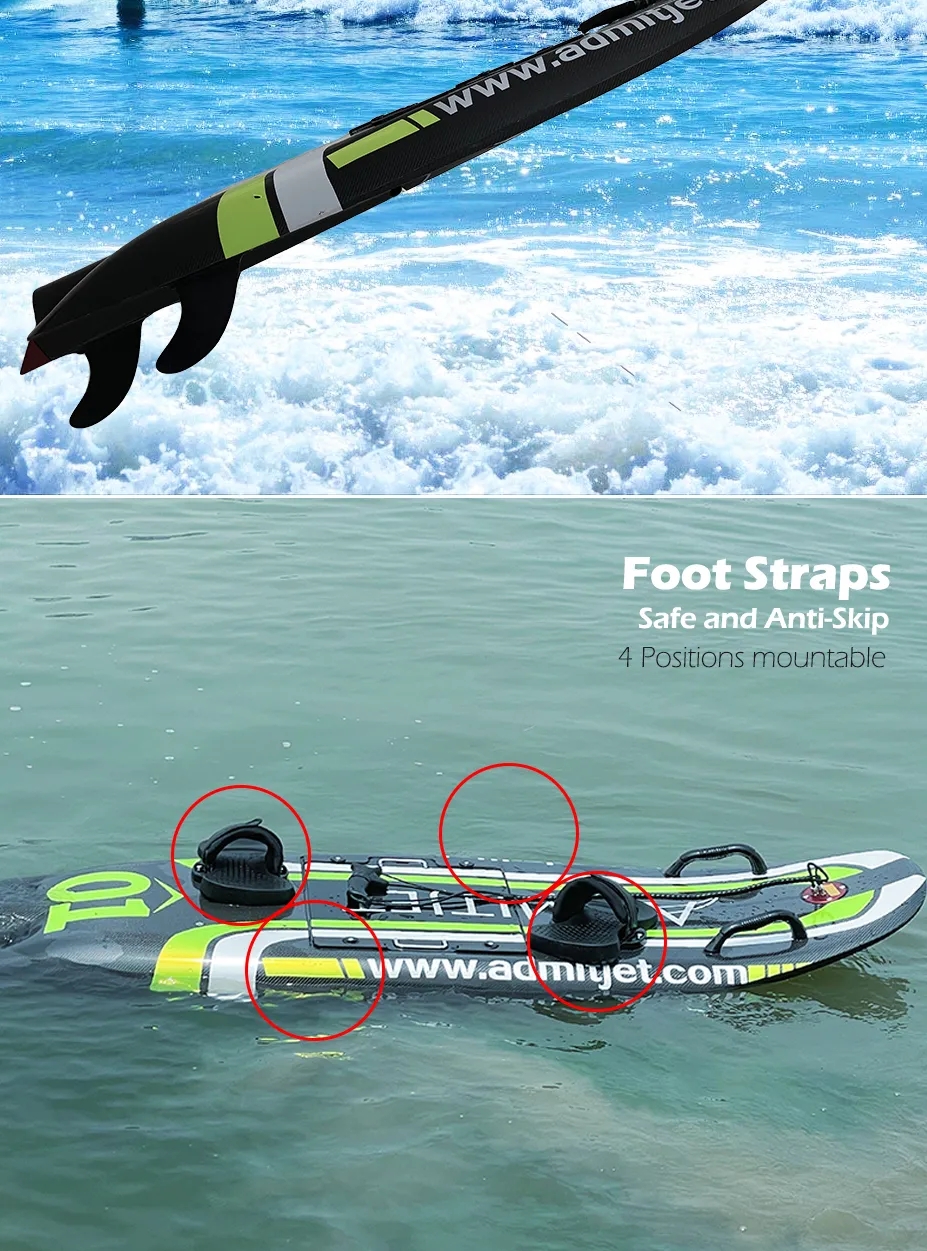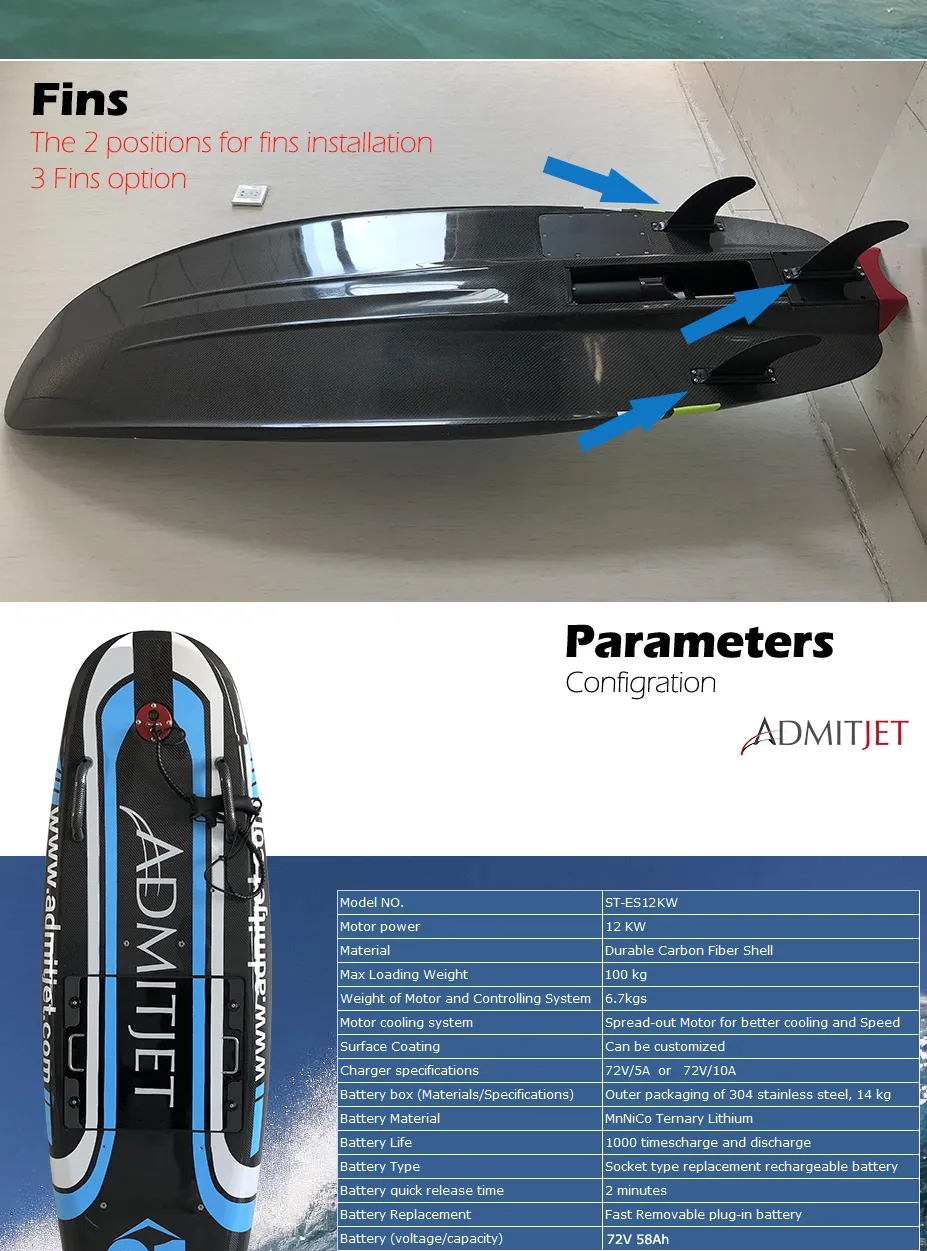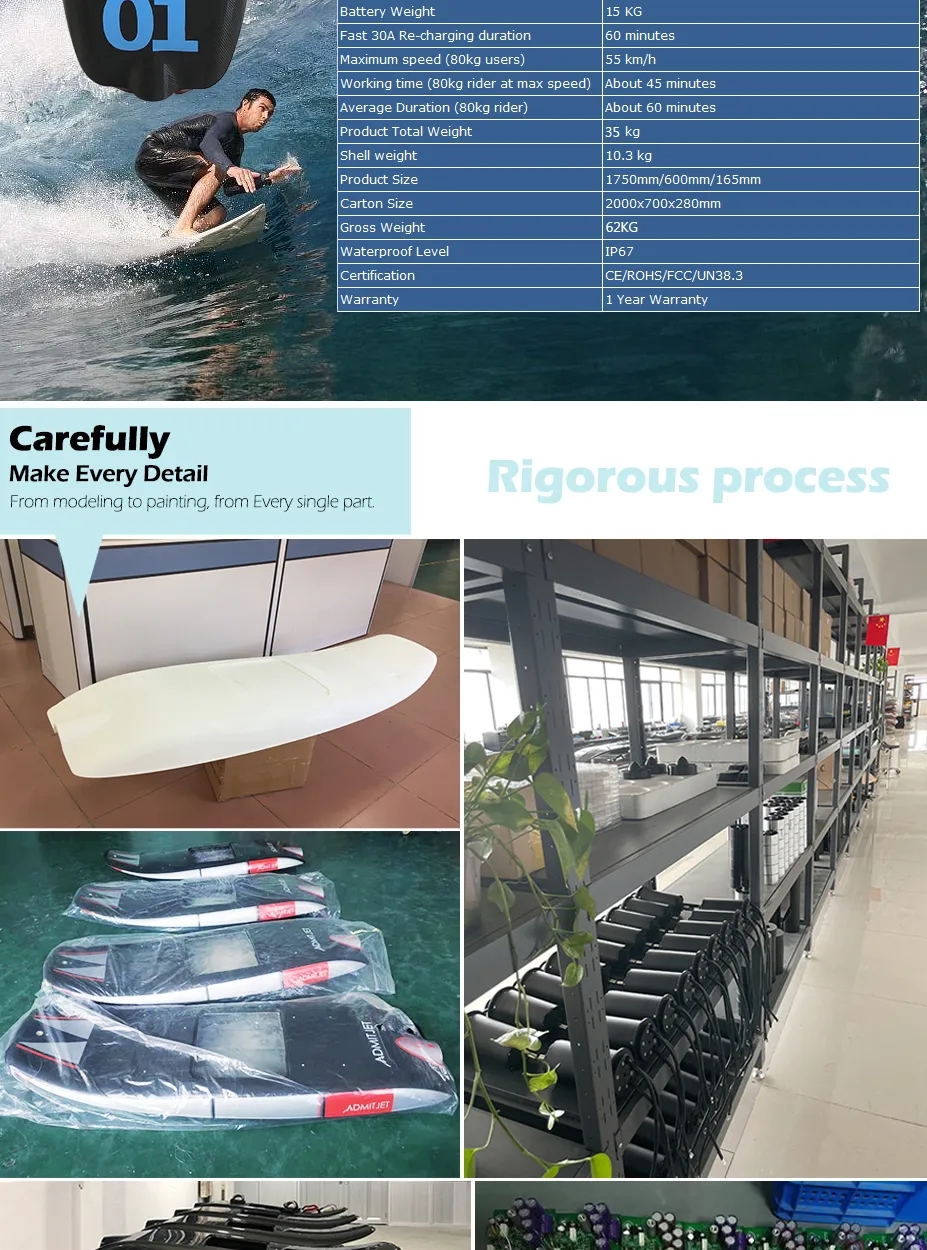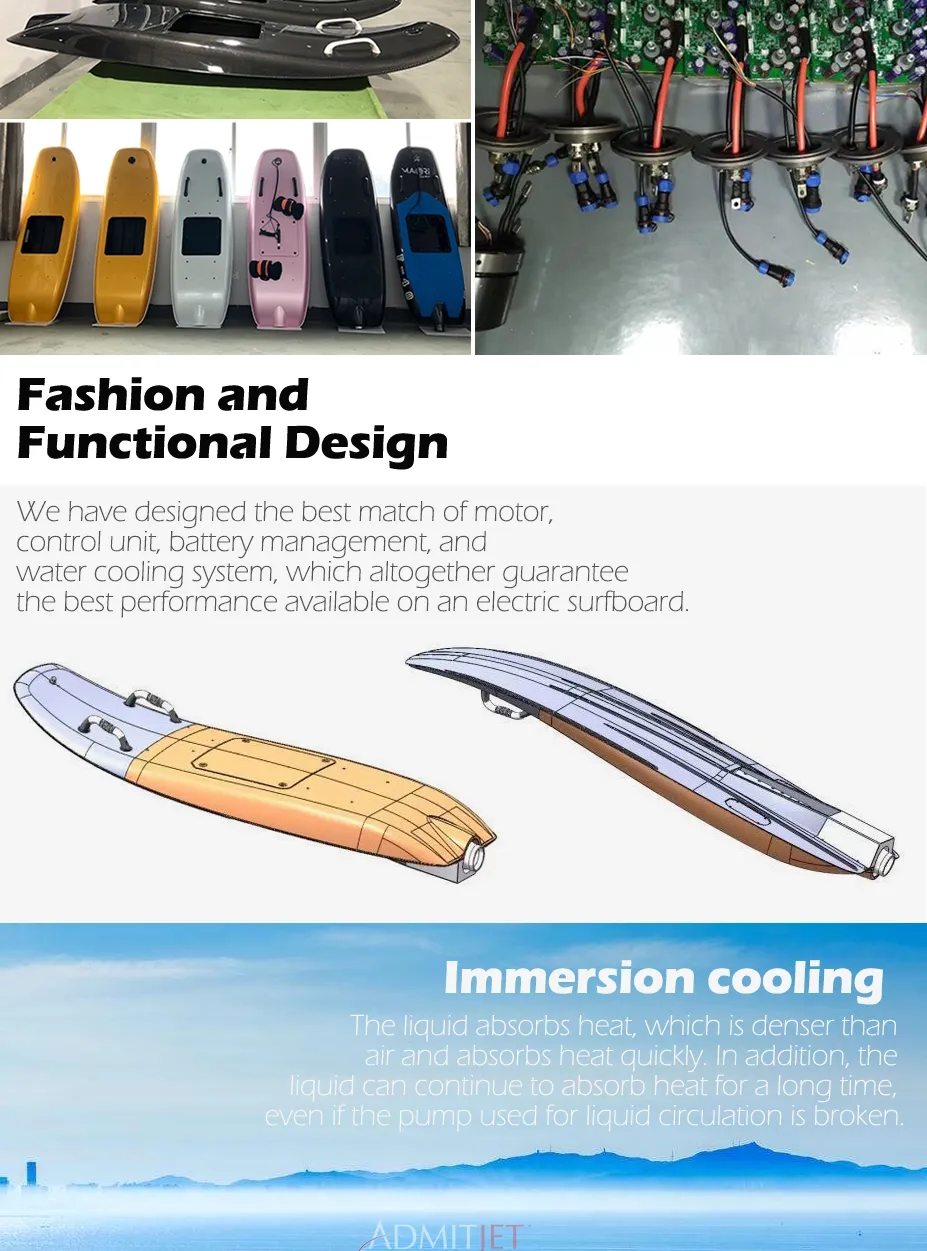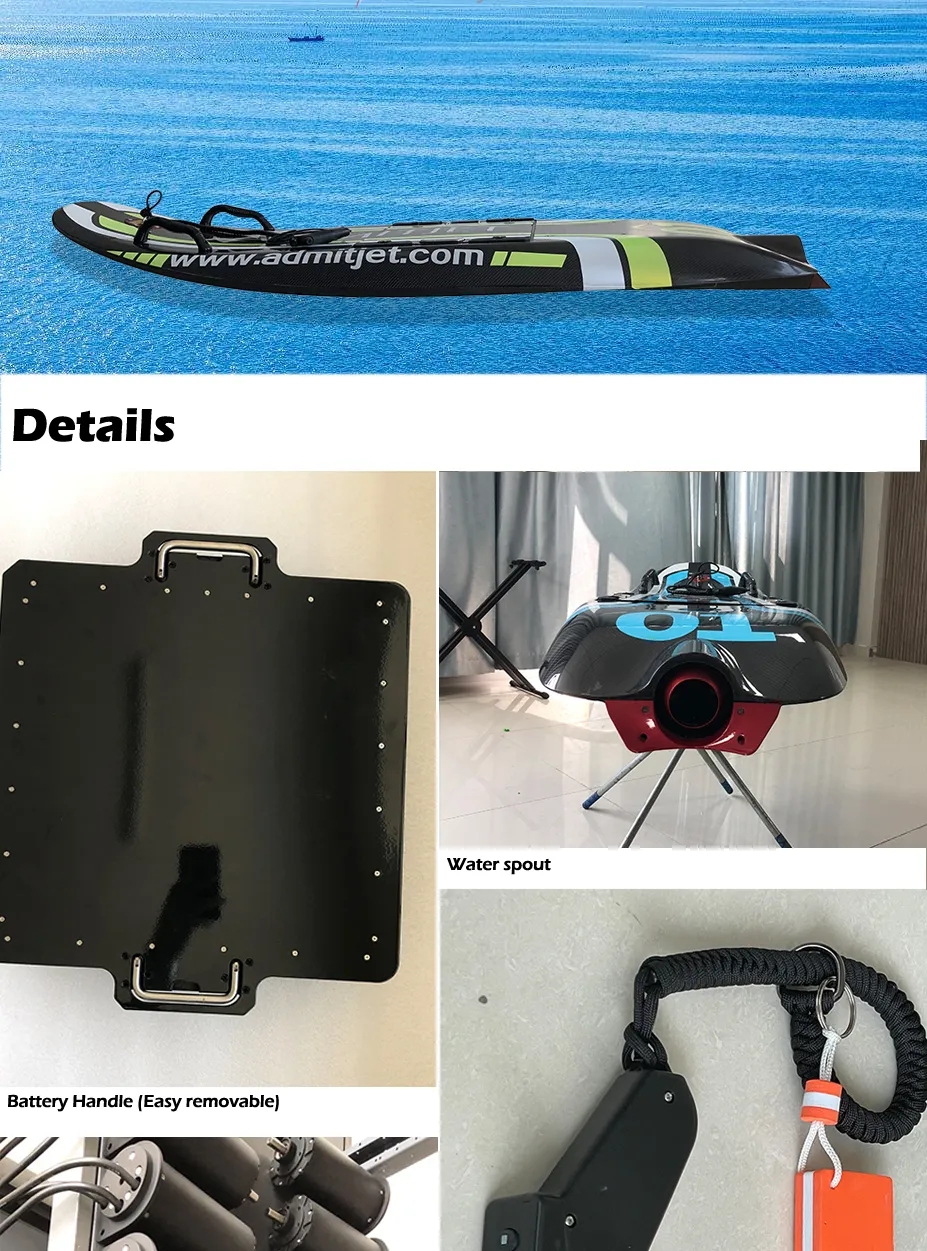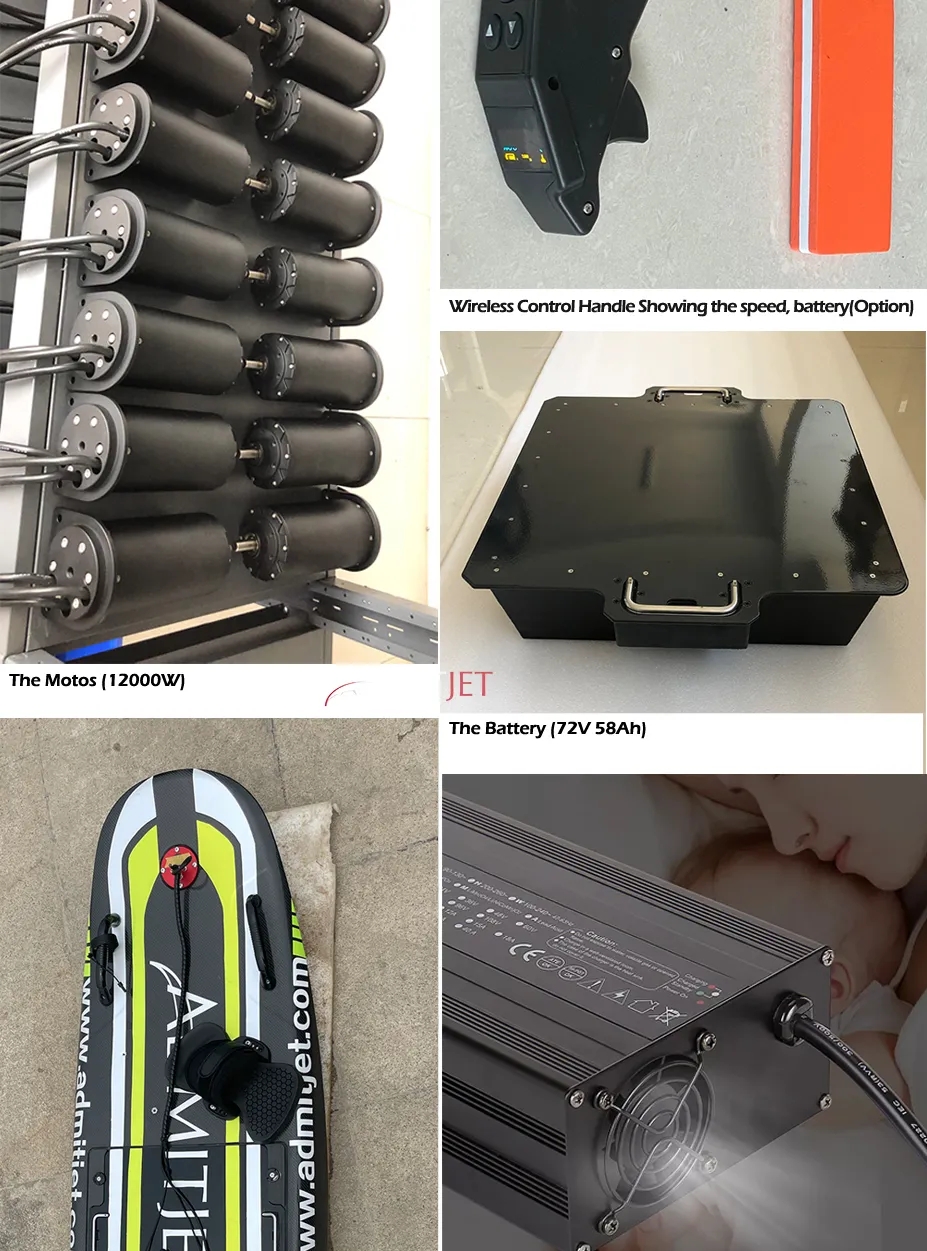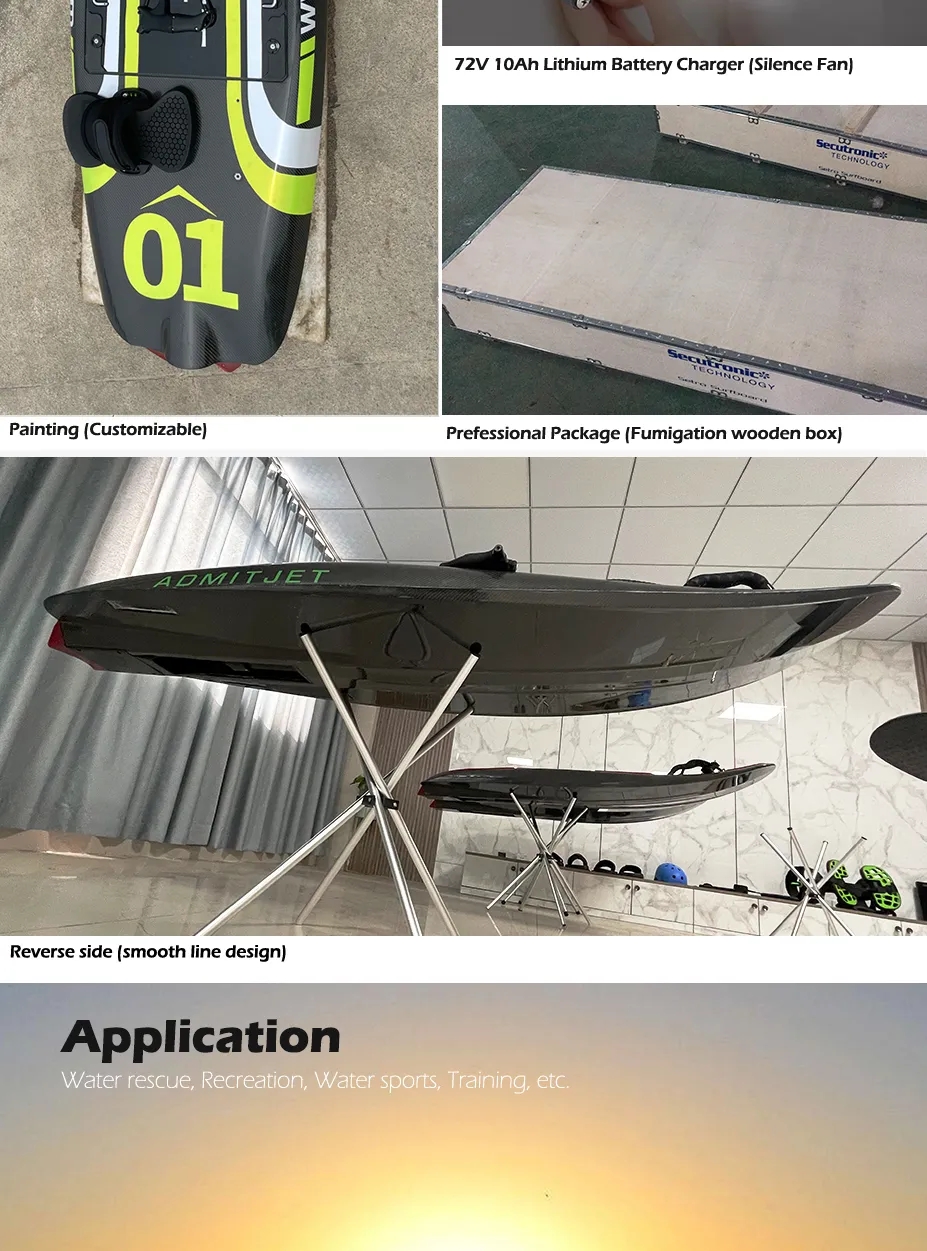 Please also take a look at our EPP material electric jet surf board.
For easy and fast communication and best services, you can find me on